Although we take our organizing work very seriously, the name Neat Freak™ is meant to be a bit tongue in cheek. We fully recognize that our homes, offices, cars and surroundings can't always be perfectly orderly. However, we do believe that putting customized organizational systems into place can free up your time, space and energy to do the things that are truly important to you.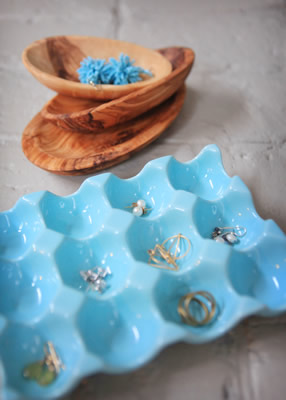 We also believe that organization is achieved through determining what you really need and desire to live with, and letting the rest go. While working with clients, we often ask the tough questions about your "stuff" and help you determine what you want to surround yourself with. We won't force you to get rid of anything. But we will challenge you to honor and respect the things you want to keep. Because, really, what's the value in keeping treasures if they're forever tucked in a box in the attic?
Inviting someone into your personal space to help de-clutter and create new systems may feel uncomfortable or just downright strange. And we totally get that! We think it's important to find an organizer you're comfortable with, can trust completely, and actually enjoy spending time with! We offer a consultation to give us an opportunity to meet, discuss goals and make sure we're the right fit for your project.
Finally, we adhere to the Code of Ethics of the National Association of Productivity and Organizing Professionals and all client information is kept strictly confidential.
Perri
Organizing expert Perri Kersh provides simple and personalized organizing solutions for space and life so clients can function at their very best. Perri began her career as a time management consultant and study skills specialist in 1992. But, truth be told, she's been organizing most of her life…  See Perri's full bio
Mary Beth
Mary Beth Grealey joined Neat Freak™ in 2011 and is our resident Neat "Geek," providing technology-based organizing solutions for clients throughout the Chapel Hill, Carrboro, Durham, and Chatham County area. With 30+ years of project management experience in the film and media industries and now as an organizer… See Mary Beth's full bio
Rebecca
After a decade in non-profit management and U.S. refugee resettlement, Rebecca Schaeffer switched gears to pursue her longstanding passion for organizing. As a professional organizer, Rebecca is delighted to have found her calling: in the words of Frederick Buechner, "the place where your deep gladness and the world's deep hunger meet." And because life is too short for just one career… See Rebecca's full bio
May Martin Bryan
May, a reformed pack rat, has embraced minimalism in recent years. Drawing on her work as a lawyer, community advocate, and volunteer, she brings her serious-minded focus and lighthearted humor and energy to ease the decluttering process. She finds… See May's full bio
Spencer
Spencer Dougherty has been with the Neat Freak™ team for several years now and loves to work with seniors who are downsizing or simplifying their lives as well as people who are preparing to move. Her patient, gentle approach to organizing is always appreciated when faced with numerous decisions and an overwhelming amount of stuff to sort through… See Spencer's full bio
Amanda Best
Amanda is a Professional Organizer who specializes in arranging areas of your home or office. She believes we all function better and lead happier lives when everything has a space. Her passion is creating systems that reduce clutter, maximize productivity, and relieve stress… See Amanda's full bio
Kathy Hallen
Neat Freak™ is thrilled to welcome our newest organizer, Kathy Hallen! Kathy has been a local yoga and meditation teacher for over 30 years. She is the co-founder and director of Ride the Breath. She always says "her life comes out of her yoga and meditation practice". And now she's excited to bring her calm and steady presence to our organizing team… See Kathy's full bio