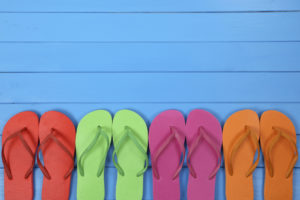 It's the last week of school around here which means we're all going to our 7th end of the year banquet, consuming our third pan of potluck mac 'n cheese, humming Pomp and Circumstance, clearing off a shelf for yet another sports trophy, and longing for days with fewer obligations. Before you completely check out for the next three months, here are a few organizational to-do's to consider so you can be summer ready!
Prep the outdoors: Clean your grill for outdoor cooking (and easier cleanup!), hose down your patio furniture, and check outdoor lighting to make sure everything is in good working order. Summer is the perfect season for simple, spontaneous entertaining. Farmer's Markets offer an abundance of fresh produce, and access to outdoor cooking and dining means you don't even have to clean up the house to have company.
As the backpacks come home later this week, go ahead and empty them of worn out pencils, crinkled up paper, half-used notebooks, and stinky lunchboxes. As I've written before, your August Self will thank you! Keep a few treasures to represent your child's year in school, but don't feel the need to keep every worksheet or composition book. Perhaps a good bonfire is in order to celebrate the end of a great year.
Stock up on summer essentials like sunscreen, bug spray (more important this year than ever!), pool snacks, simple dinner staples, and picnic treats so you can grab and go and keep life easy. No need to rush off to Target at the last minute. Stock your supply closet now for all of your summer needs.
Organize your car for summer road trips. Clean out the trunk and console, removing anything that doesn't need to travel with you. Set up a milk crate or trunk organizer with necessities for summer trips. Consider season specific items such as a picnic blanket, first aid kit, bug spray, pool toys and car snacks that won't melt. If you've accumulated gift cards and certificates over the course of the year, consider putting those in your car so you can use them up. Add a bag of spare change for parking or tolls and a small car-sized trash can for quick cleanups. Restock as needed.
Finally, get the kids on board with regular household maintenance. Now that they have a little more time on their hands, evaluate their chore list and see how you can divide and conquer. If everyone participates, household chores are done more quickly, giving your family more time to relax and have fun.
Happy summer, y'all! And keep neat.