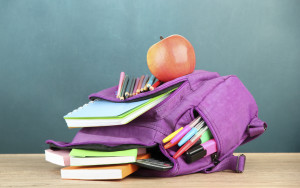 Friday was the last day of school here in Chapel Hill and yes, I did wake my children up with some very loud Alice Cooper (they were not amused). We have a fairly unstructured, lazy summer ahead of us and we're all thrilled about that.
Kids around Chapel Hill came home with backpacks bursting with report cards, EOG scores, stinky lunch boxes, and a cubby/locker's worth of paper and art work. I know you're all in a rush to head straight to the pool or the beach or to camp, but please, for the love of all things neat and tidy, take 10 minutes to clean that crap out…trust me, your August self will thank you.
Paper and artwork: sort through this quickly while standing over the recycling bin. Keep ONLY the treasures that show real developmental growth and are significant to you and your child. File away in a folder with your child's name and academic year on it.
Report cards/EOG scores: Stick these in a file with other academic records. But first take a second to shred the other quarterly report cards you've collected this year. You only need one copy!
Lunch boxes: soak that sucker in some hot water, run it through a gentle laundry cycle, or perhaps just throw it out and plan to replace it next year.
Other school detritus: pencils without an eraser, mostly used up ink pens, bent paper clips, broken pencil cases…toss it all! I'm not trying to be wasteful – but really, your child will want a fresh start come August and no one wants to start school with a nubby pencil.
Backpack: check it out to make sure it's still in good shape, all items are removed, and it will still function for your child next year. Run it through a gentle wash cycle and let it air dry so it's ready for service come fall.
I know, I know … we're all exhausted June parents right now and we just want to relax. But taking the time to do this now will make you so happy when back-to-school season rolls around. Have a wonderful summer!