Client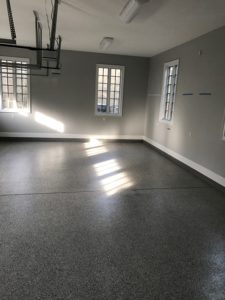 Profile:
A family of 6, living on a large piece of land perfect for four active, outdoorsy boys wanted help managing all of their equipment for hunting, fishing, football, soccer, lacrosse, biking, motor biking, and more. A large 3 car garage housed most of these items but had become an eyesore. A walk-in attic provided easy storage but had become a dumping ground for unused items. The Neat Freak team was called in to bring order to chaos and make it look good.
Project Summary:
Four busy boys had pretty much taken over the three car garage. Since this is what the parents saw first thing whenever they came home, they were ready to make the garage shine…never mind being able to park more than one car in there! With storage galore
available in the home, they were eager to better utilize the space they had, rid their home of extra furniture and equipment that was being stored but never used, and lift the burden of mounds of clutter that comes with a house full of kids. They wanted the garage to look like "House Beautiful"…and that's exactly what we gave them.
Challenges:
Growing boys with equipment for every activity imaginable.
An abundance of storage which can be a blessing and a curse! When client's have the space, they are often unlikely to ever get rid of anything.
Keeping equipment available and putting systems in place that the boys could maintain.
Solutions:
First, we separated all items in each storage space into keep, donate/consign, trash. This is a fairly standard organizational practice, but there was A LOT of stuff to work with and it covered a lot of territory across a large home.
We identified "zones" of storage throughout the house. Relocating all holiday décor to one room in the basement. Moving all memorabilia down to another basement storage area for easy access for each of the boys. Off-season sports equipment was moved to the walk-in attic, while current sports equipment was kept in the garage.
We worked with local donation organizations, a favorite consignment shop, and our haul-away service to make several trips out to the property to pick up items.
College students were hired to help move items—sometimes from the basement of the home up two flights of stairs to the attic or other rooms. There was a lot of stuff that needed to be moved!
Shelving was relocated from the garage to the attic to better utilize the vertical storage in that space. Some furniture being stored for the boys was moved to the attic for short term storage.
The garage was cleaned, painted (including the ceiling), new shelving was installed in the closet and on the walls, and new cabinetry installed. The floor was painted with a special textured garage floor paint, and new stainless steel appliances were installed to store food for four hungry boys.
Why Neat Freak was right for the job:
First, we have kids, and we get the special challenges (and STUFF!) that comes with them. When multiple spaces in a home have to be organized, it can often quickly overwhelm the homeowner, and even we feel like we're playing Tetris for a while. However, organizers have a unique ability to break a large project down into manageable steps, and t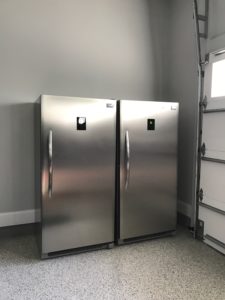 o project manage the steps so that they're done in an order that makes sense. Working as a team, we got large items picked up and out of the way, made decisions about where everything would be stored. Utilized shelving that we had on site to make the most of storage space in both the attic and basement. And calling in trusted vendors, took extremely good care of the clients with painting, shelving, flooring installation and new cabinetry.
In the end, they truly got their "House Beautiful" garage, and now they can actually park three cars in there!