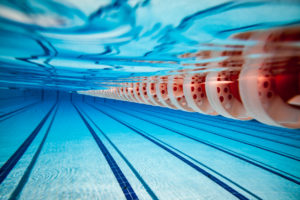 I'm 47 years old, and I'm taking swim lessons. And no, I don't mean that I'm taking a Masters Class or perfecting my free style for speed. I'm literally starting in the shallow end and learning to blow bubbles. It's not that I can't swim at all. If you threw me in the pool, I could tread water and I can do a fairly ugly crawl. But swimming is not something I've done regularly as an adult. I realized a few years ago that I'm actually a little afraid of the water, and putting my face in the water makes me anxious. As I'm aging, I'd like to swim for exercise rather than just running all of the time. But first, I had to learn how.
Cue Ms. Barbara—the most patient, loving, and knowledgeable swim teacher this middle-aged lady could bump into. We spent our first lesson together at the Homestead Pool in the shallow end. Yes, there were toddlers and early elementary school-aged children there. And yes, I was learning to hold my breath and looking for toys on the bottom of the pool, and learning that if you sing to yourself while floating on your back, your legs don't sink. This was all new to me (or at least stuff I had forgotten since I first learned to swim at age 5). Fortunately, I was a pretty quick study and I made some big improvements in just one lesson. But it was also humbling, a little embarrassing, and required a healthy dose of vulnerability.
All of this was a perfect reminder for me of what my disorganized clients are experiencing when we first work together. Their inability to get and stay organized has often been a problem for most of their life. They feel ashamed, embarrassed, and incredibly vulnerable when they show me their dirty little secret(s) and admit that they don't feel they can ever invite anyone over to see how they live.
Like swimming, however, organization is a set of skills and habits. And it truly is something that anyone can learn, if you're willing to practice, you're open to change, and motivated to keep at it. Just like Ms. Barbara had me bob up and down 30 times to practice holding my breath, practicing the basic skills and principles of organization will lead to better habits, less accumulation of stuff, improved daily systems for putting things away and getting things done, and an overall sense of calm and peace in your life.
I've worked with clients ranging from age 6 to age 86, and have found that it's never too early or too late to acquire new habits and skills that will lead to a more organized life. Trust me, if I can put on a bathing suit, hop into the baby pool, and count starfish on the bottom of the pool, then you can learn how build organizational systems that will help you be your very best self. Don't be afraid to learn new tricks.