I lo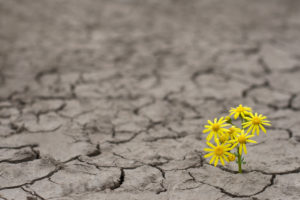 ve to write about organizing. But ever since November, I've had a hard time focusing. Somehow, writing about closets, pantries, garage shelving and spring cleaning seems a bit trivial to me right now. And I don't think I'm alone. Close to 30% of workers in the US have admitted to being less productive since the election, and 87% admitted to spending part of their work day reading political social-media posts. One thing is for sure, most of us are awake right now!
So, how do you go about those regular, day to day tasks that still need to get done (or at least should get done), when you're spending so much time reading the news, feeling anxious, discussing politics, working for the resistance or planning for the end of days? It's not easy!
First, I think stressful times allow us to get very clear about what matters most to us. There are a number of people engaging in politics for the first time, and that's wonderful! Far too few people vote in our elections (particularly non-Presidential elections), so if more people are engaged, then this is what democracy looks like. Spend this time getting very clear about the issues that matter most to you, and find the best way to engage. Also, get clear on you strengths. If you don't love to make phone calls or attend protests, find other ways to be politically active. Clarity will allow you to spend your time on things that truly matter to you. We're most effective with our time when we're genuinely engaged.
Think globally, and act locally. And I mean VERY locally. Sometimes, you have to start right in your own home and control the things you can control. Last weekend, my husband and I cleaned out our dirty, clutter-filled, rarely seen basement. And it felt fantastic. I can't make decisions about who will be the next SCOTUS justice, but I sure as heck can recycle some old cardboard and donate some light fixtures we no longer use. I can also give our winter coats that no longer fit to a charity that will share them with immigrant families. I can drop off an extra bag of groceries at the IFC. And I can spend a little time every day smiling, loving, and trying to make America kind again in my own home and surrounding community.
Finally, fall back on your organizing routines and try to maintain the systems that work for you. Most of the time, an organized home, office or calendar gives us energy. Knowing that certain things are taken care of, and crossed off the to-do list, gives us peace of mind about our lives. Maintain those things that you can, so you have energy for the long haul. No matter what your political leanings, these are stressful times filled with conflict. Take pleasure in the small organizational tasks and routines you know you can count on so you can wake up and face days that may be filled with uncertainty.
Keep neat! Hopefully I'll be back to regular programming of hospital corners and alphabetized spice drawers soon!