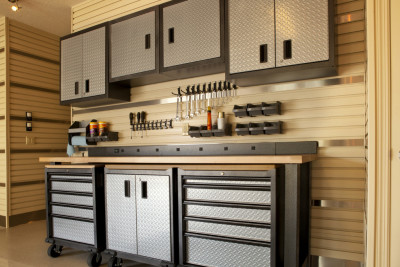 Client Profile:
Two busy physicians recently renovated their lovely lakeside home. The only space left untouched was their garage, which was filled with leftover building supplies, sports equipment for an active family of five, and a hodge podge of tools and yard equipment, leaving little space for cars to be parked.
Project Summary:
The couple called in the Neat Freak team to help bring their garage up to par with the rest of their home. We worked to clear out the garage, create zones of activity, and allow ample space for sports equipment, bikes, necessary tools, and two cars to be parked. Many unused items had accumulated during the renovation and it had become an easy dumping ground. A major cleanout, new shelving and a fresh coat of paint brought the garage up to speed with the rest of the home and created a wonderful coming-and-going spot for the busy family (+ two dogs!).
Challenges:
Three sports oriented kids accumulating a lot of equipment over the years
Unwieldy bikes taking up much needed floor space
Numerous tools and lawn equipment in various spaces that were challenging to locate and often went unused
A pre-existing work bench that wasn't really getting used for work
Wasted wall space, begging to be put to good use
Solutions:
Zones of activity were established for gardening, sports, home maintenance, bikes, and bulk supplies
Sports equipment was culled and vertical space was utilized for storage and easy access
Tools and supplies from the work bench were de-cluttered, categorized and containerized to make it an efficient, user-friendly spot for home maintenance
A fresh coat of paint freshened up the space and provided a clean, blank slate
Customized shelving was selected and installed providing better access to tools, sports equipment, bike equipment and household supplies
Why Neat Freak was right for the job:
One thing we really believe in at Neat Freak is making the most of the space you have. Primarily, garages are for parking cars! And we like to make room for that to happen.  We worked as a team to clear out the entire space, clean it well, and ready it for fresh paint and new shelving. Once this framework was in place we were able to create zones of activity based on frequency of use and proximity to the home entry and garage doors. Containers the client had on hand were used to group like with like and make it easy to find what the family needed and then put items back in their home when finished. Bikes were corralled in a "bike zone" so the family could enjoy using them and have easy access to helmets and accessories. The end result was a family friendly garage with room for two cars and a beautifully organized space worthy of the rest of the renovated home.